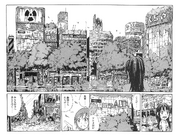 Shinjuku
(新宿区) is a special ward located in
Tokyo
where the survivors of the
Planet
are evacuating from Mitaka station to go past the Danger
Zone
by using the train on the
Chuo line
(the train was left at East Koganei station which is two stops before Mitaka station). Shinjuku alta is located here.
It is also where the 3rd arc of the series start (on October 7, 2036). The place where the Ozu sisters often settle down residence in Tokyo is at Kabukichou which is located here.
A group of survivors settles and live in the underground basement at Shinto Bank after they broke up in a fight with the main Shibuya 109 Shelter survivors half year ago. Most of the survivors here
are killed
approximately two weeks prior before Ibara's group came and discovered their bloody corpses. The Shibuya 109 Shelters came here to search for a
arsenic trioxide
for
Alice
.