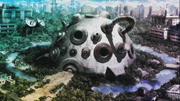 Planet (プラネット) is located at JAXA (Japan Aerospace Exploration Agency), it is originally a huge vacuum chamber for simulating conditions in space which is why it is a sturdy shelter that can block off normal radiation.
Ibara and the group stayed here three days on October 4-6, 2036.
The survivors that reside here are Gojirou, Ibuki, Kurobe, and Gennai. The large container truck they have is labeled "Mitaka Team".