Oyakata Kurobe
Kanji

黒べえ親方

Rōmaji

Kurobe Oyakata

Characteristics

Race

Human

Gender

Male

Age

3

Height

3cm

Hair Color

grey

Professional Status

Occupation

Survivor

Personal Status

Status

Alive

Relatives

Koutarou Nakamura

First Appearance

Manga Debut
Anime Debut
Kurobe-oyakata (黒べえ親方 lit. Foreman Kurobe) is another survivor.
Appearance
Edit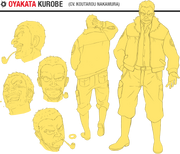 He has dark gray hair, black eyes, large eye lashes, and growing beard hair around his chin. He wears a brown jacket with aligned dark brown fur around it's neck line, a white polo shirt, olive green pants, and black boots. He seems to always smoke a small pipe.
Personality
Edit
He is always jolly and ready for anything in action. He cares for his fellow survivors and the Coppelion.
Relationships
Edit
Abilities and Powers
Edit
Foreman Kurobe has a large stockpile of weapons stored in "The Planet, including:
Heckler & Koch MP5K Submachine Gun
Mark 18 Carbine
Heckler & Koch G36 Assault Rifle
AK-74 Assault Rifle
RPG-7 Rocket Launcher
Carl Gustav Recoilless Rifle
Unknown M16-like Assault Rifle
Other unknown firearms, including handguns, SMGs, rifles, and shotguns
Kurobe also operates the M2 .50 caliber machine gun on Harutos AMV armored personnel carrier.
Major Battles
Edit
(To Gojiro) "Gojiro..Y'sure know a lot about electricity. What was yer job before the meltdown, again?"
References
Edit