Kiara Yamada
Kanji

山田 姫愛

Rōmaji

Yamada Kiara

Characteristics

Race

Coppelion

Gender

Female

Age

13

Professional Status

Affiliation

Retrieval Unit

Personal Status

Status

Alive
Kiara Yamada is a member of the Retrieval Unit.
Appearance
Edit
Kiara is a short slim girl with light eyes and shoulder-length hair. She usually has her bangs covering her eyes and has one sharp tooth that shows. She wears a polka dot sweater with horns on the hoodie, a two layer skirt, and boots. Underneath her sweater, she isn't wearing any shirt, but has a bow tied around her neck. She always has her hoodie up too.
Personality
Edit
Relationships
Edit
Kiara found him crying inside Site-0, Kiara was shown to be hurt by this and achieved revenge by killing two professors that worked there. When she was tranquilized by the workers of Site-0, she was forced to work there with Ingmar. There, she felt pity for Ingmar and befriended him, until now, she's still friends with Ingmar.
Abilities and Powers
Edit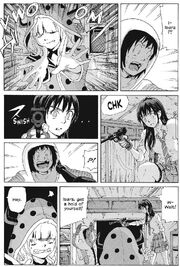 She can manipulate other people. Ibara was manipulated and points her gun at
Ryuunosuke
after being grabbed on the wrist and stared at by her (because she was knocked out by Kanon, so Ibara didn't shoot him in the end). It should be noted that Ibara saw memories of the past from Kiara when her wrist was held by her.
She is also capable of controlling Ingmar.
One day while she was playing in a field, her ballon ball slips into the SITE-0 area. She went and investigate what it is, only to find Ingmar crying inside and dead corpses of failed experimented animals. The scientists that came to check up on her discovered this, so she used her powers to manipulate them to commit suicide. She was later shot with a tranquilizer and was thrown inside the SITE-0 to work. There, Kiara befriended Ingmar.
Major Battles
Edit
Her surname Yamada (山田) means "a rice field mountain". Her given name Kiara (姫愛) means "lovely princess".
References
Edit