Ibuki Kajii
Kanji

梶井息吹

Rōmaji

Kajii Ibuki

Characteristics

Race

Human

Gender

Female

Hair Color

Black

Professional Status

Occupation

Survivor

Personal Status

Status

Alive

Relatives

Gojiro Kajii (Father)
Tarou (Husband)

First Appearance

Manga Debut
Anime Debut
Ibuki Kajii(梶井息吹, Kajii Ibuki) is the pregnant daughter of Gojiro Kajii. Her husband is a member of the 1st Division Force, his name is Tarou (太郎).
Appearance
Edit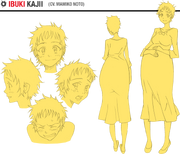 Ibuki is slim, tall woman with short, messy black hair and dark eyes. She wears a plain white three-quarter sleeve tea-length dress with bateau neckline, and a pink bow. She also wear white flats.
Personality
Edit
She is kind showing concern to the Coppelion. Her baby's father is Tarou whom Ibara met and identified because he was listening to the conversation during Ibuki's delivery. She is compassionate and kind and even though she stayed in Tokyo for 20 years, she still missed the place.
Relationships
Edit
She has a boyfriend which is the father of her baby. They were close but their relationship is unknown to her father nor friends. His name is Tarou. He is special to her to the point that Ibuki asks if Ibara and Haruto could find him during their diversion so that she can meet him and survive together.
Nomura Taeko
Edit
She seemed to be attached to Taeko because of Tako helping her many times including when she was giving birth, Taeko was the one doing the operation.
Her babies are twins - one male and female. Because Taeko helped her deliver the babies, she wants Taeko to name both of them. Since Taeko hesitated to do so, Ibara quickly suggests that she'll name them instead. Ibara named the male baby as "Riku" (陸 lit. land) and the female baby as "Sora" (空 lit. sky).
Major Battles
Edit
References
Edit