Kunikida
Kanji

国木田

Rōmaji

Kunikida

Characteristics

Race

Human

Gender

Male

Personal Status

Status

Deceased
Division Commander Kunikida (国木田 師団長) or commonly known as the White-cloaked guy (白い外套) is the main commander and leader of the 1st Division Force. He initially wields a (possibly Katana) sword, before it was taken from him when he was unconcious. After Haruto rescued Ibara from having cardiac arrest, he was put in a holding cell in the Mitaka police station. He was able to escape later when the Iron Spider falls down to the building. He doesn't wear an oxygen tank and smirks often.
His sword weapon is later shown to be with Gennai, but it was never shown used.
He dies after pushing Haruto out of the way of a traffic light falling on the train.
Appearance
Edit
He usually wears a white cloak with a black collar with golden buttons and golden outline, a white cap with a gold piece on top, and a mask.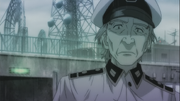 Personality
Edit
Relationships
Edit
Hachirou Natsume
Edit
He was close friends with him 20 years back then when the nuclear meltdown occurred.
Haruto Kurosawa
Edit
Abilities and Powers
Edit
He is somehow able to withstand the radiation in Tokyo, his severely disfigured face being the only visible damage the radiation dealt to him.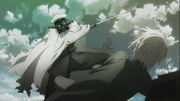 Major Battles
Edit
His personal prounoun is "waga-hai" (我が輩) which literally means "my fellows, my class, my cohort", but used in a somewhat pompous manner as a first-person singular pronoun.
(To Haruto) "Ibara Naruse ... That girl ... When she saw this hideous face of mine..she told me this: That my eye was that of an ordinary man."
(To Haruto) "I am grateful to you. Because of you children...I can die as a man."
References
Edit